Ownership Overview
Ownership Overview
Ceco Concrete Construction, LLC is one of several construction focused companies comprising the Construction Services Group – a group of companies owned by the parent holding company The Heico Companies, which also owns organizations in its other three platforms: Applied Solutions Group, Industrial Technologies Group, and Metal Processing Group. In total, there are over 9000 employees within 70 operating companies.
PROUD TO BE PART OF THE HEICO FAMILY & A WBE BUSINESS
Ceco Concrete Construction is backed by the global strength and resources of our parent company, The Heico Companies. As a privately held American holding company devoted to manufacturing, construction and industrial services, The Heico Companies has the ability to make decisions that serve market demands and customers rather than shareholders. The Heico Companies' unprecedented investments in advanced technology help set Ceco Concrete Construction apart.
Ceco Concrete Construction is also proud to be certified as a WBENC business. WBENC's national standard of certification is a meticulous process involving an in-depth review of the business that is seeking certification to confirm that the business is at least 51% owned, operated, and controlled by a woman or women. By including women-owned businesses among their suppliers, corporations and government agencies demonstrate their commitment to fostering diversity and the continued development of their supplier diversity programs.
Emily Heisley Stoeckel Chairman of The Heico Companies
Mission & Vision
WHO WE ARE AND WHAT GUIDES US
Mission
Be a client-centric, single source solution for concrete structures.
Be unwavering in our commitment to the safety, health and development of our employees by providing a working environment defined by openness, honesty and respect; where employees, individually and collectively, are dedicated to exceptional workmanship, professional integrity and extraordinary service.
Combine the resources of a large company, with the spirit of a small one, while embracing innovation at all levels and measuring success by the outcome rather than the process.
Vision
Lead the construction industry in the delivery of innovative client focused structural solutions.
When Heico Acquired Ceco
Ceco's Origin
Ceco's Headquarters
# of Locations
History of ceco concrete
The following tells the story of how Ceco Concrete Construction grew from one man's great idea to a nationwide leader in cast-in-place concrete construction performing more than 200 projects representing 20 million square feet each year.
In 1912, 26-year-old mechanical engineer C. Louis Meyer had a revolutionary idea and a dream of growth. That year Meyer founded the Concrete Engineering Company in Omaha, Nebraska, and began more than 110 years of outstanding industry leadership in concrete construction.
In the early days, Meyer's young company was strictly a sales agent for fabricated reinforcing bar and clay tile used in the construction of reinforced concrete buildings. But Meyer had an idea to discover a more efficient concrete construction system using steel forms that could be removed and reused over and over again in place of the wood and tile traditionally left in the structure. The Meyer Steelform construction system made Meyer's dreams for Ceco a reality.
READ THE FULL STORY
Leadership
Danny Battles President
Before arriving at Ceco, Danny Battles earned a Bachelor of Science degree in construction management from Oklahoma State University. For more than 30 years, he has served Ceco in various roles and levels of responsibility. His tenure has seen assignments to Kansas City, Oklahoma City, Atlanta, Chicago, Phoenix, Dallas, New Orleans and now San Antonio for the past 12-plus years. Learning from the local teams with each move, he developed a keen eye on cost and efficiency while growing his leadership and organizational skills. Danny looks forward to leading Ceco into its next chapter: "We have a strong team in place to help us achieve our mission of leading the construction industry in the delivery on innovative, client-focused, structural solutions that provide exceptional client results.
Learn more
engineering & equipment
Ceco Concrete's in-house engineers are at the centerpiece of our preconstruction planning, construction systems design, safety management, constructability analysis and problem-solving brain trust. To learn how Ceco engineers provide value at every step of every project, read Ceco Advantage: Engineering.
Ceco-owned equipment and regional equipment yards contribute to field success and numerous benefits for clients. By having formwork systems and equipment specially designed for Ceco and immediately available in-house, we bring enhanced logistics, expedited project starts, trained and productive crews, safe and efficient system designs, predictable outcomes, no third-party equipment excuses, and reliable Ceco performance that clients can count on.
Ceco location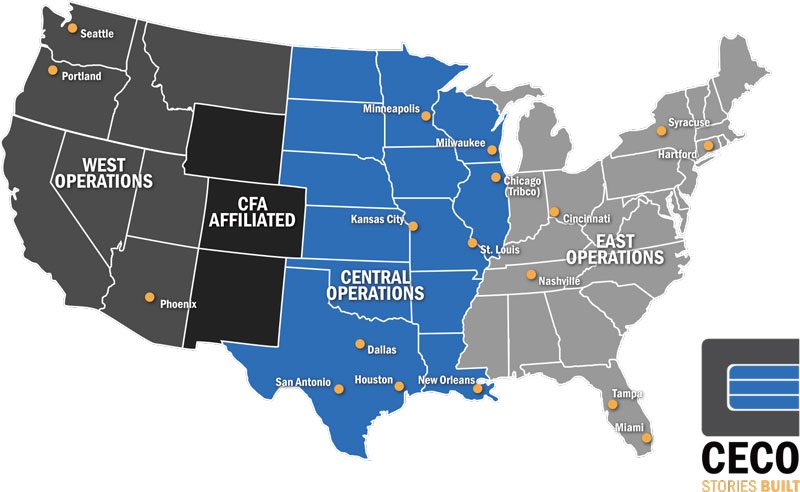 Ceco Locations
If you're looking for a concrete contractor and project partner with unmatched experience, a holistic approach and a proven track record of integrity, Ceco has the team for you in your region.